ON 8th November 2016, at 8 pm, Prime Minister Narendra Modi suddenly announced to the nation, that the government intended to eliminate the 500 rupee and 1000 rupee note – dramatically, in four hours' time. These two denominations account for about 90% of the currency in circulation in India currently. Various details have emerged since, and there are enough gaps in the argument for one to question whether this really is an attack on corruption as it is being touted?
Here are some thoughts, and questions:
On the intent behind the move:
Taking away currency notes of higher denominations are a step in the right direction – they are easier to hoard, easier to move, and lend themselves far easier to various nefarious cash transactions. But the 2000 rupee note confuses me. Isn't that going to negate the point above? Why not just go with a new 1000 rupee note if you are worried about large paper currency denominations.
Also, exactly how big is the fake currency problem? Did RBI believe that our notes were just completely compromised, security wise? In fact, this morning, when the government announced that a new batch of 1000 rupee notes will be introduced, it does seem that the main issue is one of fake currency, and replacing which should have been a routine RBI-led operation.
Logistics to alleviate chaos and the pain:
Exchanging those currency notes are going to be a pain. An average urban household probably holds more than INR 4,000 – so would have to make multiple trips to the banks. Also, there is far too few 100 rupee notes in play. So expect plenty of chaos and confusion. What about people who are travelling away from home, in another city say, with cash in hand, and either have no access to ATM, or do not know how to use one? Images of people queueing up outside banks are everywhere, with people complaining bitterly of the inconvenience.
Even so, one could argue that the inconvenience of the urban middle class is a minor sacrifice. But clearly, that is not the case for the poor. The government needs to direct public sector banks to go out there to make the transition as smooth as possible – hold camps in every ward, every village to help exchange these 500/1000 notes; be available to allay anxieties; not harass people trying to change notes; etc. How will bank and post office staff help those without ID proof? So far, we have heard little on what the government intends to do to make it easier for the poor who are likely to be the worst hit due to this sudden hit to their immediate cash liquidity situation.
Far from the famed 'efficient implementer' image that Modi and his PR have cultivated, this has been a massive tumble in the dark. No one knows when ATMs will be back in order, no one can say if new 500 rupee notes being printed are enough, or whether there are enough 100 rupee notes to meet the demand. POS machines are crashing because servers cannot deal with the additional load. Far cry from the digital cashless society we have already become if you go by Modi/Jaitley speeches!
A bunch of analysts have basically responded with – "you asked for a fight against corruption", and yet completely ignore the chaos and confusion caused by the manner in which this fight was launched. The Prime Minister in his address essentially said that the 500/1000 rupee notes were now mere pieces of paper, which no doubt, resulted in some panic amongst people and a rush to the nearest bank. At the bank (or the post office), people are now being asked to fill out forms to exchange their money (irrespective of the amount), which refuses to acknowledge not only the prevalent rates of adult illiteracy, but also those who cannot produce a proof of identity.
Use of plastic currency in India:
The reach and functionality of zero-balance accounts at the last mile (which in India is a HUGE population) is still suspect. Even for those using bank accounts, to what extent do they have debit cards, and how many places can they use it at? RBI data from July 2016 shows just under 70 crore cards, which on the face of it, appears quite high, even though one must remember that middle class and richer households obviously hold multiple bank cards, and so penetration is not as high as it looks.
The same RBI data from July 2016 shows that INR 17,092 crores worth of POS transactions and INR 2,19,165 crores of ATM withdrawals took place. The average POS transaction then is about INR 244, and the average ATM withdrawal, INR 3,130. In reality the pattern of transactions would look quite different, obviously, and just reflects the distance cards need to yet cover before they can truly be considered an alternative.
As has been pointed out by several people, India is by no means alone in trying to go cashless. However, India's readiness to go cashless is in doubt. Could we have waited until the Unified Payment Interface was in place,and RuPay was firmly established? Should we not have ensured that the zero balance accounts are in use, and strengthened the network and functioning of banking business correspondents?
Politically speaking:
This is a bold step by the Prime Minister, because there is certainly going to be some short-term pain, especially for the poor. This then, is a bold gamble just ahead of the Punjab and UP elections.
The element of surprise and the big bang announcement was inevitable though, as they serve a dual purpose – that of catching those hoarders (including political parties getting ready for electioneering) off-balance; and that of generating plenty of noise around it.
This does skirt the bigger issues though, of election finance. Also, big crony capitalists don't really use cash in suitcases these days to influence those in power. Their methods are far more sophisticated, and these measures will do next to nothing to hurt them. At best some of the black money that people hold in cash will have to be disposed, and by no means can that be a significant sum.
The political logic of appearing to be an anti-corruption crusader is a sound one, one that Narendra Modi successfully used in the 2014 general elections too. On that count, expect a mish-mash of the language of surgical strikes and kaala dhanin all upcoming election rallies and posters. It is also not too fanciful to imagine that the BJP has (once again) taken advantage of a routine operation and hyped both its scope and potential consequence.
.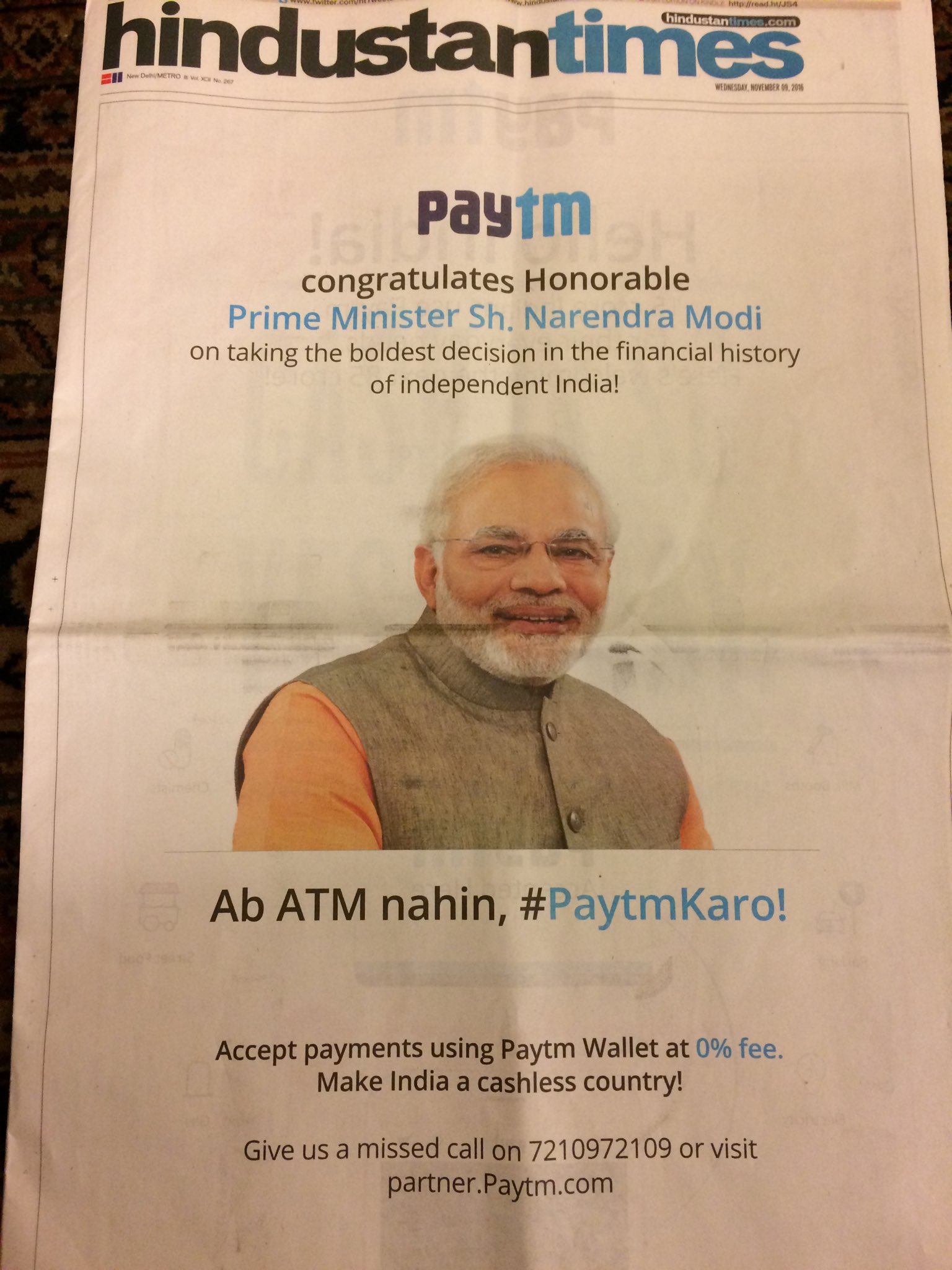 The greatest tragedy is that this pain could have been avoided. Even if you didn't believe in any of the political conspiracy theories, you can easily see the shocking levels of incompetence at the highest levels of our government and the Reserve Bank of India (RBI). For some time, lets assume that this step to discontinue the existing 500/1000 rupee notes was necessary. In that scenario, consider this: all 500/1000 rupee notes can be deposited in the bank by 30th December 2016 (and even beyond, with additional paperwork). Instead, we have reports of shops and establishments refusing to accept those notes, causing great hardship to those who primarily operate with cash. If you are a shop owner who can explain your income and cash balance, you can continue doing business as usual, and deposit your cash later.
Why is this not happening? There could be many reasons. One of them surely must be the Prime Minister's speech on 8th November where he announced that the 500/1000 rupee notes would be worthless pieces of paper from midnight, sending people into panic, and the economic systems that the poor depend on, into a tailspin.
Finally, amidst all the columns in support, please do read Prabhat Patnaik's stinging critique of this demonetisation plan, where among others, he argues that those who hoard 'unaccounted money' are bound to find ways of getting their money changed to acceptable currencies within the time-period given.
Also, read Prosenjit's column asking questions regarding the intent behind this scheme, and Madhavan Narayanan's column where he argues that the government has essentially created a 50-day hawala window for the old currency notes.